"I tell everyone - you haven't had a 'proper' facial until you've been to Skin Logic. There's nothing else out there that compares.."
Caroline S
Meet Sara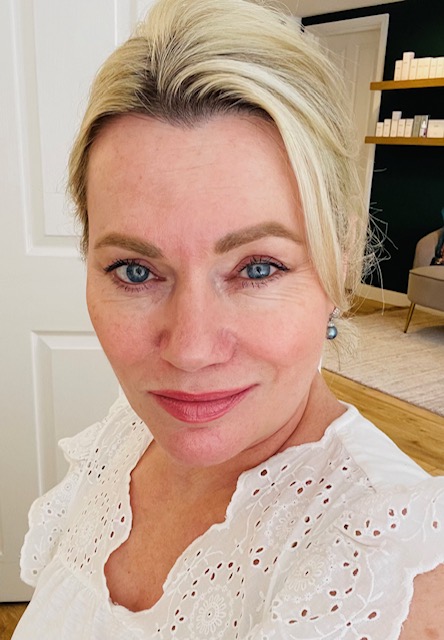 Hello and thank you for visiting my page! Here's a bit about me…
A long time ago, when I was in my 20's and 30's I had very little interest in skincare, beyond taking my full face of make-up off at night…
Most(!) evenings, I would cleanse, tone and moisturise..waking in morning to see the same face in the mirror - until the day I didn't!
Instead there was a woman staring back at me in the harsh morning light with pale skin, puffy eyes, and a wrinkly neck. I gave, (what looked to be the start of) my jowls a disgruntled 'poke' and pulled my skin back tight in front of my ears just to see what it would look like if I'd had a facelift…
I'm smiling here as I write because almost everyone I speak to has done the same thing at some point in time or is thinking about doing it right now!
Back then, I was a single parent, raising three beautiful children in my early forties and realising something had to change. I began to learn how to take better care of myself and my skin, not just through serums and creams, but also through diet and making time for myself - sometimes just managing 10 minutes a day to step off the treadmill of life - it was worth it and I began to look and feel better and happier in myself and my skin.
The turning point came in 2014, when I sold my property business. I had realised it was time for me to move on too…
Having done so and with a newfound freedom to choose - I decided my work had to be worthwhile, fulfilling and something I was truly passionate about and it is indeed. When you meet me you will just know!
My approach to skincare is a holistic one, combined with attention to detail. You'd be surprised how much those positive shifts along with a 'tweakment' or two, add up over time giving us the ability to transform not just how others see us, but also how we see ourselves. As my exercise coach tells me, "Consistency is key" - and I would say the same to you too as a 'Personal Trainer' for your skin!
It is my absolute belief that feeling good and looking good go hand in hand and that
as great skin is something we are born with - it is something that we have the right to reclaim in a way that suits us and our lifestyle.
So, whatever stage you are in life - whether you're in your 20's, 30's getting married, new mum, menopausal, or even in your 80's (and some of my clients are though you'd never guess) I'm here to help. If you find yourself thinking, 'It's too late - I wish I'd done something earlier' or you're ready for a re-set, fresh starts and new beginnings then here and now is perhaps a good place to begin your journey.
Take it from me - an unfiltered, un-photoshopped Granny, at nearly 60 years of age. I'm a woman who understands - has walked the walk and 'gets it' - remember it's never too late to start taking care of yourself.
So drop me a line if you like, or book an appointment to chat all things skin - I'd love to hear from you!
Best wishes,
Sara x